Transverse Abdominis Function
How the three parts of the muscle help to stabilize the SI Joints, lumbo-sacral joint, thoracolumbar junction and more.
Transverse Abdominus Function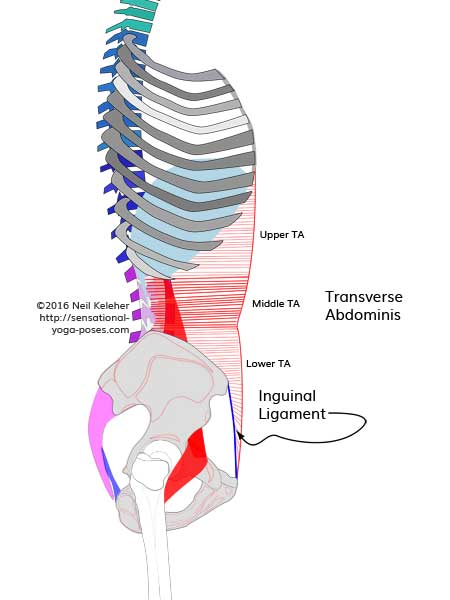 Apart from opposing the diaphragm in diaphragmatic and reverse breathing, the Transverse Abdominis (TA) can play a role in stabilizing the sacroiliac joints, lumbar spine and lower thoracic spine. It can also help in stabilizing the connection between the lumbar and thoracic spine at T12/L1.
To understand how it can stabilize this entire region of the spine it can help to divide the Transverse Abdominis into three parts. This isn't to say that it consists of three parts. It is an aid to understanding; a temporary model to help understand the TA and how it can work. It's one aspect of the whole, a focused point of view, but only one. For complete understanding we need multiple points of view.
But anyway, dividing the TA into three parts, those three parts attach to the pelvis, the ribcage and the space between the pelvis and ribcage. (In the picture above, the middle layer of the Transverse Abdominis muscle is slightly darkened.)
Transverse abdominis function, toc