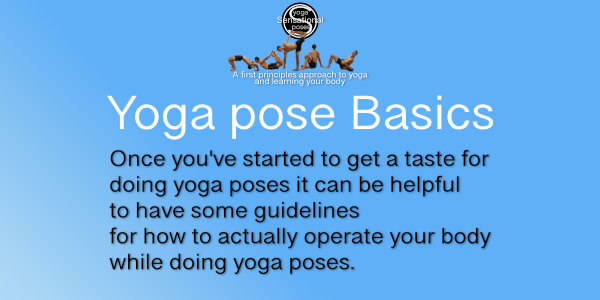 Yoga Basics for Beginners
Some basics for beginners doing yoga poses
As you get a taste for doing yoga poses it can be helpful to have some guidelines for how to actually operate your body while doing yoga poses. This page ideally helps you with everything you might need to know about yoga poses so that you can do them safely and effectively.
Basics for beginners Index
As a beginner one of the best things you can do is to simply get started. And one way to start is with this Beginners Yoga Workout.
If you want a bit more agency in how to start a yoga practice, or perhaps the above routine is to hard (or too easy) then the ideas in Beginning a Yoga Practice might help.
For more articles on yoga for beginners, including tips on modifying yoga poses, preventing injury and more, check out the links below.
Beginners Yoga Workout
A sequence of yoga poses for beginners
Beginner Yoga Poses
Building awareness by moving slowly and smoothly
Beginning a Yoga Practice
As a beginner, figuring out where to start
Feel Your Body
Noticing relationships within and without
Preventing injury when starting yoga
What causes injuries, what you can do to prevent them
Modifying Yoga Poses
for Beginners and the Less Flexible
Why Do Yoga?
Some Benefits of Doing Yoga with a focus on Muscle Control
Starting a Yoga Home Practice
What You Need to Know
Beginners Yoga Routine for
More Flexible Hamstrings
One reason for doing yoga is to learn your body. One reason for learning your body is so that you can use it with awareness (and if you like, finesse) in anything that you do. For an overview of what can be involved (using a first principles approach) check out: Learning Your Body.
For more articles on learning your body, in particular, learning to feel it and control it, scroll sideways in the list below.
Learning Your Body
(And Noticing What is Happening Now)
Adding Bigness to Your Yoga Poses
Basic Principles for Yoga
Using Yoga Poses to Learn Your Body
Learning a yoga pose as the sum of its parts
Yoga Pose Brush Strokes
Tips for Breaking Yoga Poses down into Meaningful Elements
Improving Control and Proprioception
by Creating Space and Stability