The intrinsic back muscles
Making it possible to feel the spine as well as control it
On page cat links
Counting your vertebrae, Iliocostalis, Interspinalis, Intertransversalis, Levator costarum, Longissimus, Multifidus, Psoas, Quadratus lumborum, Serratus posterior superior, Spinal segmentation, Spinalis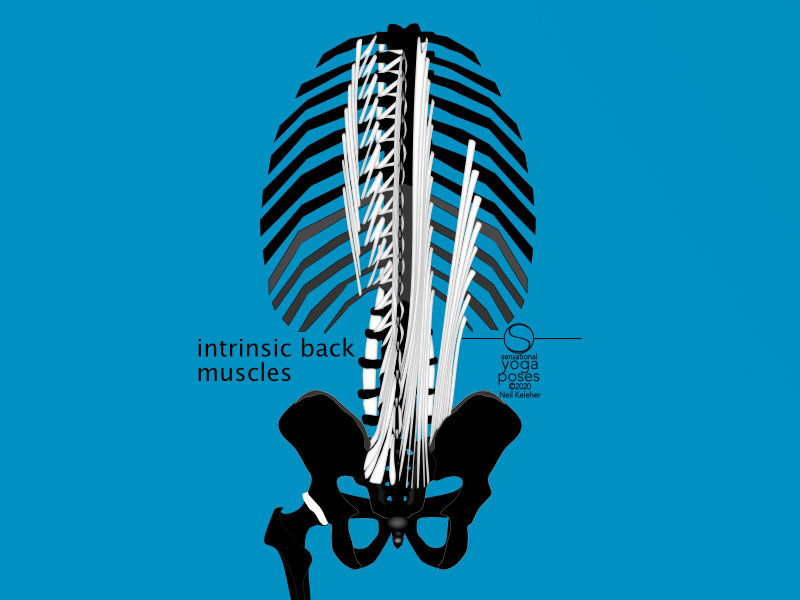 The intrinsic back muscles (or deep back muscles) are the muscles that run up the back of the body on either side of the spine. Together, these muscles work on the spinal vertebrae (which includes the sacrum and coccycx or "tailbone") as well as the hip bones, the ribs and the skull.
When active, these muscles allow us to feel the spine whether through muscle activation sensation or connective tissue tension or a combination of both.
In combination with abdominal muscles (the obliques, the rectus abdominis, the transverse abdominis), the intercostals, the diaphragm, the psoas, and quadratus lumborum, these muscles can be used to make the spine erect, or long, they can bend it side to side or frontwards or backwards. They can allow us to twist our spine, turning vertebrae relative to each other, without the need to use our hands. They allow us to shape and otherwise move our spine and also to stabilize it.
They can also be used to drive respiration or breathing actions.
At the level of the sacrum and the lower lumbar spine, these muscles work on the SI joints. That means that they work against the pelvic floor muscles and or the lower transverse abdominis.
The intrinsic back muscles include the spinal erectors, which themselves includes the spinalis, longissimus and iliocostalis muscle groups. It also includes the semi-spinalis, multifidus, rotators, levator costalis as well as the intertransverse and interspinalis muscles.