Spinal Back Bending Exercises
Anchoring your spinal erectors and using them
Published: 2018 03 25
Updated: 2020 10 24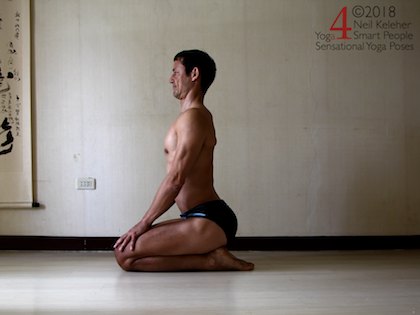 When doing Spinal Back Bending Exercises, so that you distribute the bend along the entire length of your lumbar and thoracic spine, learn how to feel and use your spinal erectors to do your back bending.
Then, since a lot of back bending yoga poses also include the hips, learn how to actively bend your hips backwards also using your gluteus maximus and hamstring muscles.
Back Bending Exercises
for Your Spine and Hips
The Spinal Erector muscles, along with the multifidus, run up the back of your spine.
The spinal erectors attach in places to the back of your ribcage as well as to the back of your pelvis. So as well as bending the spine backwards, these muscles also pull on the ribcage and pelvis.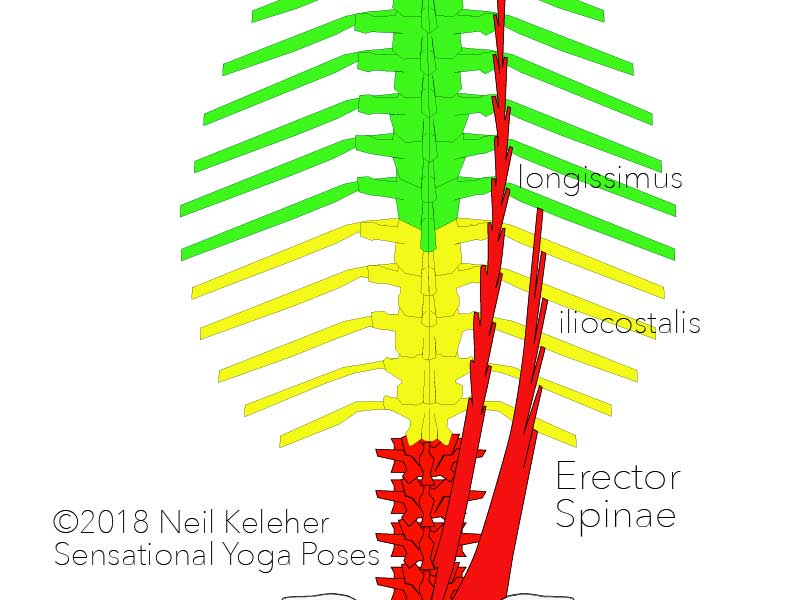 You could think of them pulling on the back of the pelvis to help bend the lumbar spine backwards and pulling on the back of the ribs to help bend the ribcage backwards.
As well as bending the spine (and pelvis and ribcage) backwards, the spinal erector muscles could also be thought of as helping to resist forward bending of the spine.
While forward spinal bends do tend to stretch these muscles, they can be active in a spinal forward bend (helping to prevent or control further bending of the spine forwards) or relaxed.
One of the easiest ways to learn to feel your spinal erectors activating is with variations of locust pose.
The spinal erectors are not a single muscle but rather a group of muscles that can act together or in relative isolation. As an example, in locust pose you could start by lifting only your head. As a result you'll be activating your cervical and upper thoracic spinal erectors.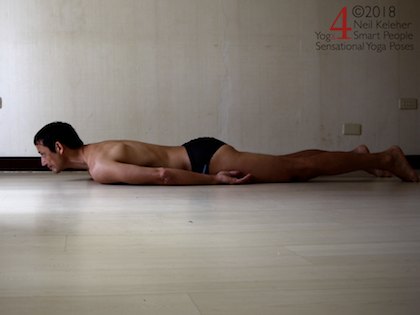 If you then lift your upper ribcage and focus on bending your upper ribcage backwards you can deepen and extend the action so that your upper thoracic spinal erectors are also helping to bend your spine backwards.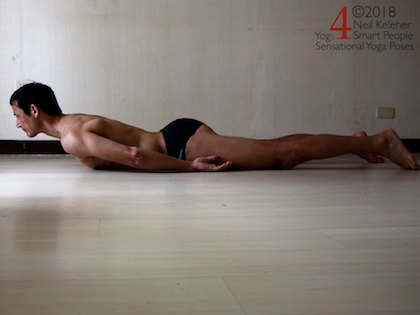 From there you could also lift your lower ribcage and bend your lower ribcage backwards also.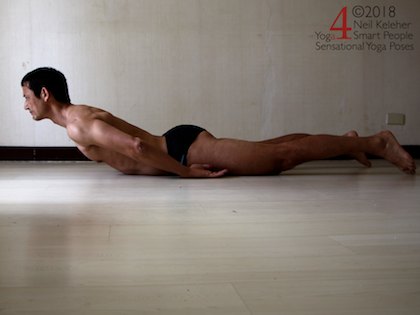 Learning to feel your spinal erectors
In all of these backbending exercises, rather than just lifting, try lifting slowly while paying attention to the sensations that are generated by muscle action along the back of your spine.
If you slowly pull up on your head for example you'll be able to feel the spinal erectors at the back of your neck activating.
If you slowly put your chin down and then slowly relax you'll feel these same muscles relaxing.
See if you can activate those muscles without actually lifting your chin, just by creating an upwards pull on your head.
When lifting your upper chest, do the same thing.
Notice the sensations generated by the action of muscles along the upper part of your thoracic spine and ribcage. Again, lift slowly so that you can notice your muscles turn on.
Lower slowly and then slowly relax after lowering so that you can feel those same muscles slowly relax.
The more you focus on bending backwards, even trying to feel the bend at each vertebrae, the more likely you are to be activating the deeper/smaller spinal erectors and even multifidus, the muscles that act across smaller groups of vertebrae.
You can repeat the spinal back bending exercise while kneeling with your bum on your heels.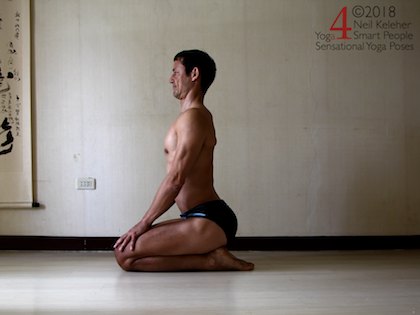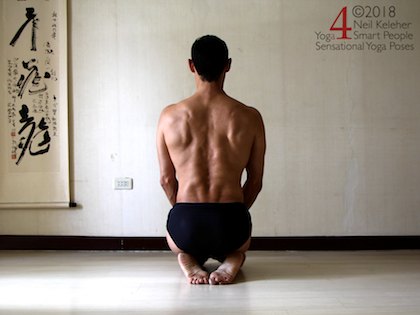 This time start the action by lifting your tailbone bone. Your pelvis will tilt forwards as a result.
Feel your lumbar lordosis increasing as you tilt your pelvis forwards (while keeping your ribcage upright).
Then as you return your tailbone to the start notice the change in sensation that occurs in your lumbar spine.
Lordosis is the scientific name for backbend.
Note that lifting your tailbone tilts your pelvis forwards, lowering it tilts your pelvis rearwards.
To increase the sensation in your lumbar spine, try lifting your tailbone/sacrum higher. But do it slowly.
You may find that towards the end of the movement your lumbar spinal erectors activate.
Feel them relax as you relax the movement.
Once you can feel them activate, try to carry the feeling up your spine.
Lift your tailbone, feel your spinal erectors activate, then try bending your lower thoracic spine backwards. Feel the spinal erectors here activate also.
Relax and repeat then try carrying the action up into the upper part of your thoracic spine.
As a quick note, you could think of your lower thoracic spine as the part corresponding to the costal arch at the front of your ribcage. It has 5 pairs of ribs and 5 vertebrae.
The upper part corresponds to the part with the sternum. It has 7 pairs of ribs and 7 vertebrae.
Another marker is your shoulder blades.
The bottom tips of your shoulder blades end at about the dividing line between upper and lower ribcage.
(For people who wear bra's, at about the bra line.)
It's generally easier to do seated spinal back bends while kneeling, but if that's too uncomfortable, sit in a chair or cross legged with your butt on a couple of stacked yoga blocks.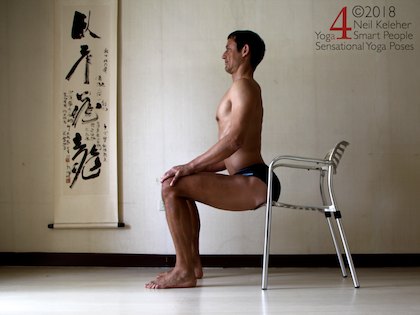 As you get more used to backbending your lumbar spine, see if you can create a backbending sensation at the back of your sacrum.
You could think of your sacrum as forming the base of your spine.
It is the part of the spine that joints it to the pelvis.
If you work at creating tension at the back of your sacrum, you'll more than likely be activating the sacral and lumbar multifidus that attach to the back of the pelvis (at the "PSICs" or Posterior Superior Iliac Spine, the parts of the pelvis that protrude just past the back of the sacrum) and that attach to the back of the sacrum.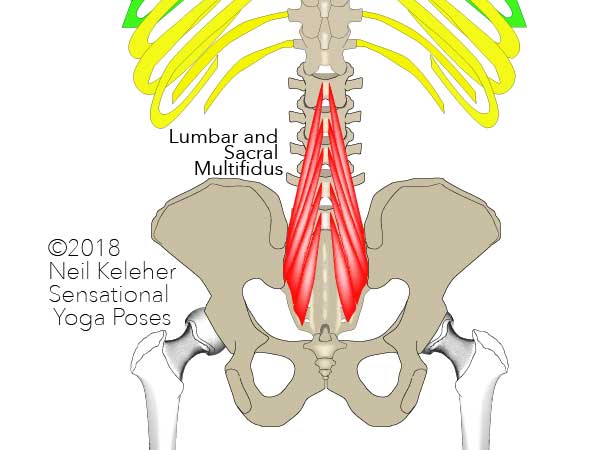 The feeling is very similiar to the contraction of the lumbar spinal erectors. It's actually like a continuation of the same feeling.
If you actually start with actively tilting the sacrum forwards, as if trying to lift your imaginary tail, you can then carry that feeling oft tension up the lumbar spine and thoracic spine so that the entirety of your spinal erectors muscles (and multifidus) are activated.
The sacrum is generally a fused mass of bone. So you can't "bend" it backwards. However, when you activate the muscles that attach to it, you may actually be tilting it forwards relative to the hip bones. (Or you may be tilting the hip bones relative to the sacrum and lower lumbar vertebrae). And, you'll be tilting it relative to the lowermost lumbar vertebrae.
You can try spinal back bending while standing.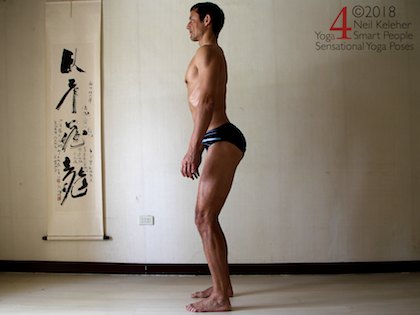 You may find it a little easier if you stand with your knees slightly bent.
As with the seated spinal back bend, start by lifting your sacrum. Try to activate the spinal erectors/multifidus there.
Then carry the backbend up your lumbar spine and into your thoracic spine.
One simple act that may make spinal backbending easier is to make your spine feel long prior to or as you bend it backwards.
Try lifting the backs of your ribs also to activate your levator costalis muscles.
Activating these muscles may make it easier to use the spinal erectors that act on the backs of your ribs.
Bending Your Hips Backwards
Before moving into Spinal Back Bending Exercises, it's time to learn how to use your hip muscles, particularly your glutes maximus and hamstrings, to bend your hips backwards.
Bending the hip backwards can mean moving the thigh back relative to the pelvis (as if "opening" the front of the hip.
It can also mean tilting the pelvis backwards relative to the thighs so that the pubic bone lifts and the sacrum moves down
Where the spinal erectors are your spinal back bending friends, the gluteus maximus and hamstrings are your friends when it comes to back bending at your hips.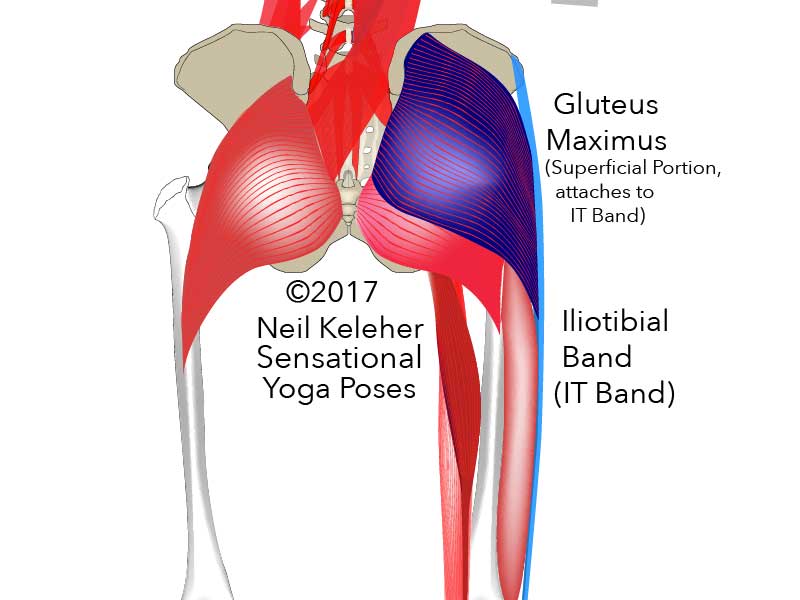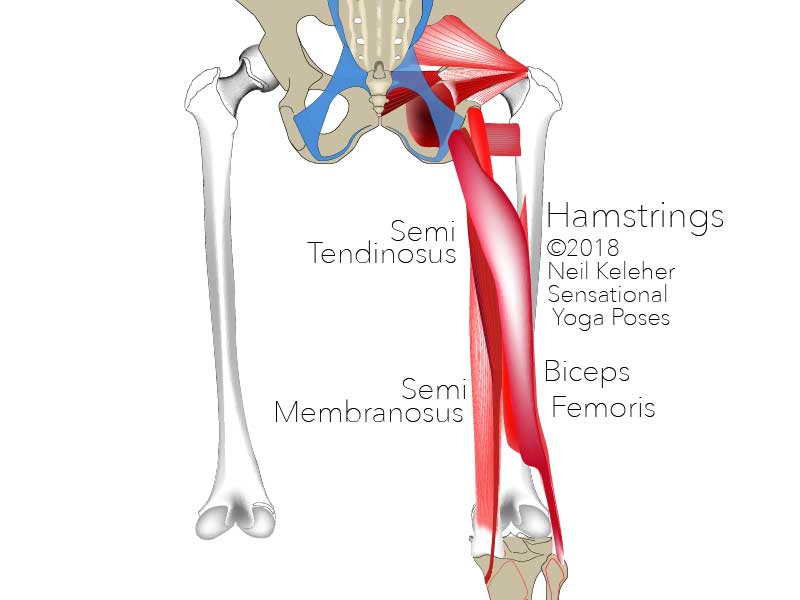 Depending on the pose you may find that only one of these muscles activate or both do. Generally, the hamstrings are harder to activate when the knees are bent.
In locust pose focus on lifting your legs while keeping your chest down.
Start by lifting one leg at a time. Work at keeping your knee straight and pointing down as you lift the leg.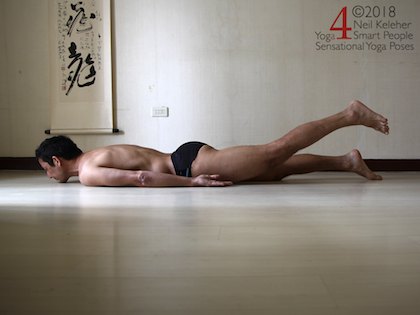 As with lifting your head, as you pull your leg upwards notice how your butt muscle, the gluteus maximus, and hamstring muscles (along the back of the thigh) activate to help pull your thigh up and off of the ground.
Try doing the leg lifts slowly and smoothly.
Keep your knee pointing down as you lift your leg.
And once you are used to lifting one leg at a time work at lifting both legs.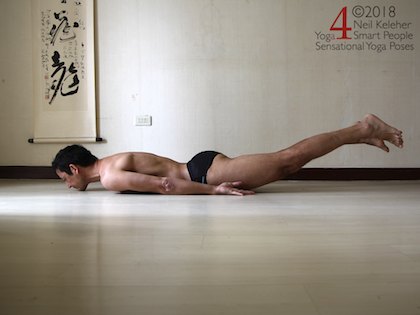 As an extra step, try leading both the single leg lift and the double leg lift with a slight lift of your sacrum so that your pelvis tilts forwards.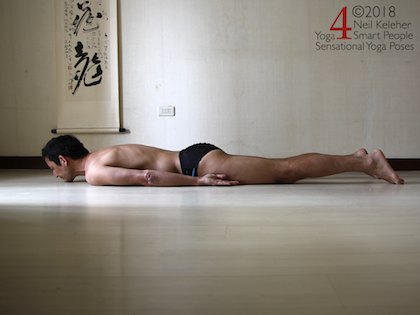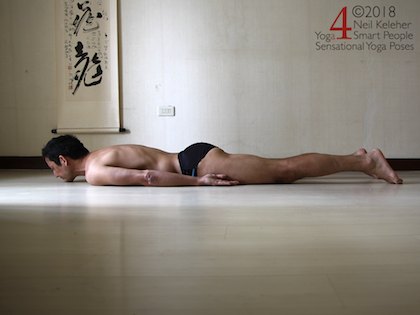 You may feel like you are pressing your belly deeper into the floor as you do this. Try to keep your sacrum lifted as you lift one leg. Then again when lifting both legs together.
In cat pose you can start by bending your spine backwards. Tilt your pelvis forwards to start the spinal back bend.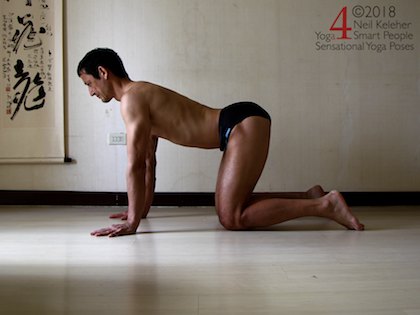 Because you are on all fours, it may be a little bit harder to activate your spine erectors. You'll probably get more sensation from tilting your pelvis forwards.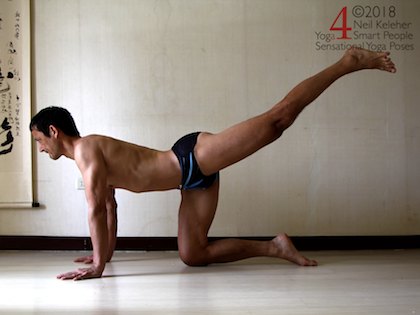 Lift one leg while keeping your spine bent backwards.
Keep the lifted knee straight and pointing downwards.
Initially focus on making the leg long by reaching it back. Then keep the feeling of length as you work at lifting the leg higher.
Generally, to lift the leg higher in cat pose you'll have to increase the forward tilt of your pelvis.
Rather than either allowing your elbows to bend or your shoulder blades to retract (move towards each other) focus on keeping your elbows straight and maintain the position of your shoulder blades.
You'll then have bend your spine backwards in order for your pelvis to tilt forwards.
You could increase the forward tilt of your pelvis as you work at lifting your leg higher. However, to improve hip awareness, and control, tilt your pelvis forwards first, then maintain that forward tilt as you work at lifting your leg higher.
Better yet, lift your sacrum so that you get "muscle activation sensation" at the rear of your sacrum.
You may find that the higher you try to lift your leg the greater the sensation of contraction of the gluteus maximus and/or your hamstrings.
For this exercise move your hips backwards relative to your feet while standing. Then push your hips forwards relative to your feet.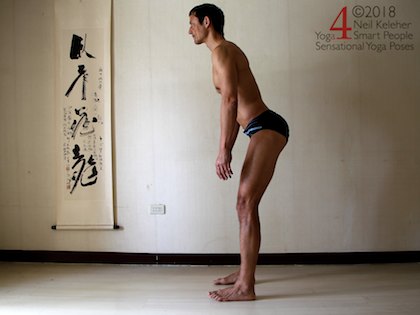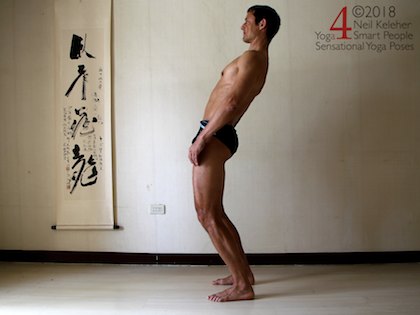 Repeat this a few times getting used to the feeling of moving your hips.
Next, work at using your gluteus maximus (and hamstrings) to push your hips forwards.
The feeling is a little similiar to the feeling of lifting a leg in cat pose. And so you could focus on pushing your feet backwards against the floor so that your hips move forwards.
Work at doing this slowly and smoothly. Release and repeat a few times.
Memorize the feeling of using your glutes (and hamstrings) to push your hips forwards.
Spinal Back Bending Yoga Poses
Now that you've learned to feel and use your spinal erectors to bend your spine backwards and your glutes and hamstrings to bend your hips backwards, you can practice using both actions in hip and spinal back bending yoga poses.