Stretching for Flexibility
Tips for sequencing stretches and for improving flexibility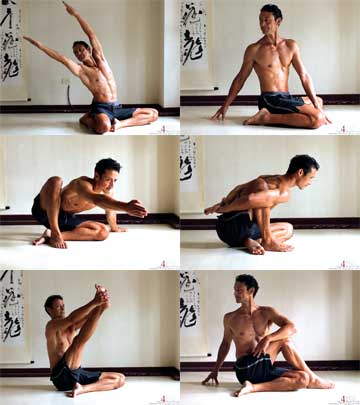 When stretching for flexibility, some different ways you can work while in a stretch include:
activating and then relaxing the muscle being stretched.
activating the driver muscle (the muscles that stretch the muscle being stretched)
activating both driver and target muscle (so that muscle being stretched, muscle that drives the stretch are both active) but activating the driver muscle with greater force so that general movement is deeper into the stretch.
relaxing the target muscle.
This page includes suggestions for how to sequence stretches as well as what you can do to stretch more effectively. It's suitable for people with a modicum of flexibility (so not really for beginners or people just getting into stretching, though you are welcome to try.)
Many of the stretches included below include binding or grabbing part of the body. In cases like these you can try resisting the bind. Notice the affect this has on the stretch in question.
If you can't bind work an alternative is to use your muscles to work towards the binding position. Work slowly and smoothly (not forcefully or with jerkiness). You could think of this as a way of actively stretching.