Quadriceps stretching
Creating Rotational Stability For Effective Quad Stretching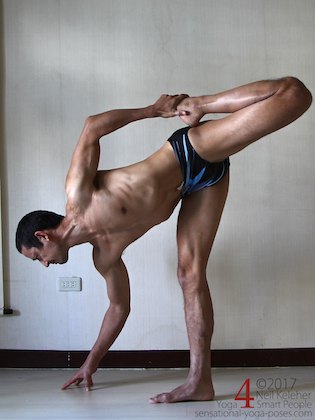 The quads are a set of four muscles at the front of the thigh that work on the knee. One of these four muscles, the rectus femoris, also works on the front of the hip joint.
Together these muscles can be used to straighten the knee or to help it resist bending. The rectus femoris portion can also be used to help flex the hip, in other words, bend it forwards. And it can be used to resist the hip being bent backwards.
Quad stretches in general involve bending the knees. The more you bend them, the deeper the stretch to your quads.
To intensify the quad stretch and target the rectus femoris in particular, you can bend one or both knees, fully closing them, and then bend back at one or both hips. Another basic option is to bend back at the hip first and then deepen the knee bend.
An important aspect of quad stretching is understanding the rotational capabilities of the knee and ankle.
(Yes, the knees are designed to rotate or to resist rotation, but only a slight amount, and generally, only when bent!)