Psoas Stretches
Back pain, using the external obliques and spinal erectors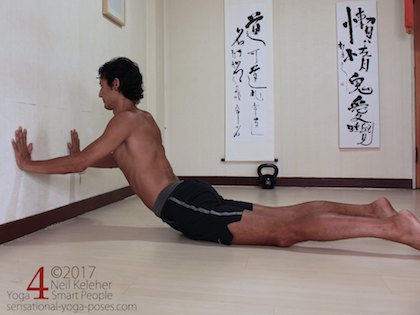 A few years after I first started teaching yoga, I taught my students how to use their psoas to forward bend. In a seated forward bend this meant drawing the front of the lumbar spine towards the inner thighs. At the same time, they could focus on tilting the top of the pelvis forwards so that the iliacus was in on the act.
Later on I started exploring its use while lifting up into handstands. My idea was to use the psoas as an impulse generator. If activated quickly while standing it shot the pelvis back while swinging the thighs forwards. With weight on the hands, this same action could be used to help lift the pelvis almost magically. (The feeling is like your pelvis is being pulled up from inside the body.)
In a Richard Freeman Workshop he told us to lift the back ribs to lengthen the psoas. He also taught us a way to a prone psoas stretch that stretched the upper fibers of the psoas. That started a lot of research on my part to finally find out that the psoas does connect to the 12th ribs via the diaphragm and kidney fascia (renal fascia.)
But I was still missing psoas stretches that stretched the lower fibers of this muscle, the fibers that seem to cause low back pain after walking.
I had to redesign my approach to doing the high lunge. In the process I came up with an alternate way to do upward facing dog as a psoas stretch, while using the wall.