Yoga to Improve Posture
Improve Your Posture with these Yoga Exercises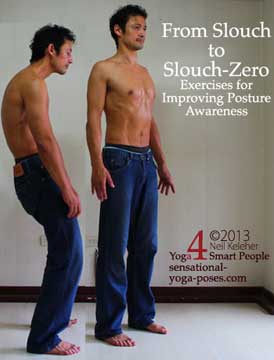 The idea of yoga to improve posture is to make holding good posture effortless, or at least, less effortful.
The following exercises can be used to develop good posture even if you aren't someone who practices yoga. They can also be used as spinal isolation exercises for those who do practice yoga.
Because you'll be working on feeling your body and controlling it you'll be able to feel the position where you use the least effort, where bones are stacked and aligned with gravity and with each other, so that you require less muscular effort to keep them in place.
This is as opposed to trying to hold good posture from the get go and then giving up (or forgetting) after a few minutes of effort.