Prasarita Padottanasana C Arm Position
Practicing hands this hands clasped behind the back in isolation for better shoulder mobility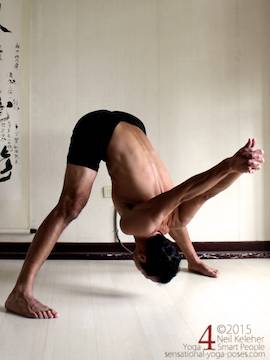 In Prasarita Padottanasana C the hands are clasped behind the back.
You then bend forwards while standing with legs apart, knees straight and feet parallel.
This same arm position is used in plow pose and can also be used in bridge pose.
If you have trouble grabbing your hands behind your back then you might find it helpful to practice this arm action in isolation while either standing or sitting.